Counseling
Vision statement
The Abbett Elementary Counseling Department will assist students in reaching their full potential, by providing the necessary tools and skills.
Mission statement
The Abbett Elementary Counseling Department is a data driven, comprehensive program designed to assist all students with their academic and social/emotional development. Our mission is to help all students, regardless of background achieve academic and social emotional success by encouraging them to become confident learners, exceptional team mates, and kind humans.
Abbett's counselor's corner
Hey there, Abbett All Stars! My name is Miss Ironbar and I am the new campus counselor! I graduated from the University of North Texas and was a teacher for five years. Then, I graduated with my Masters in Guidance and Counseling from Angelo State University in 2020! This will be my third year as a school counselor.
As a School Counselor, I promote the positive academic, career, and personal/social development of your children in the following areas:
Individual counseling
Small group counseling
Classroom guidance (i.e. Large group counseling)
Academic intervention meetings
Student Observations
Consult and collaborate with parents, teachers, administrators, psychologists, and students
Respond to school crises or emergency situations
Provide information and resources to parents on a variety of issues
When I am not working, I love spending time with friends and family, going to church, traveling, watching movies, and playing pool! Fun Fact: I am a competitive pool player!
If your child is in need of assistance, please do not hesitate to contact me through Class Dojo or email at GIronbar@garlandisd.net. I am so excited to be serving this community and cannot wait to meet each and every one of you!
Now Presenting: The NED Show
During Red Ribbon Week, all students at Abbett attended an assembly called "The NED Show." The NED Show is a school-wide character education program. NED is a loveable cartoon character whose name is an acronym for Never give up, Encourage others, and Do your best. NED captured the student's interest through story telling with props and yo-yo tricks. After the show, students had the opportunity to purchase a yo-yo as part of a pay it forward program and to learn some of the NED show tricks. The proceeds from the yo-yo sale allow for the NED show to perform at the next school.
We strive to continue practicing the NED show beliefs to promote a culture of kindness and excellence at Abbett.
Find out more information on The NED Show.
Leadership BINGO
At Abbett we strive to help all students develop leadership skills and strategies necessary to become successful learners that make a positive contribution to our community. This year we are focusing our Leadership BINGO on the following skills.
Be proactive

Put first things first

Think win-win

Synergize

Seek first to understand, then to be understood
Abbett is a Grief Sensitive School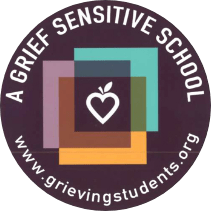 Tragedy and loss are a part of life. This does not mean it is easy to lose a family member or loved one. We are excited to let you know that Abbett's Counseling Department has joined forces with New York Life's Grief-Sensitive Schools. This partnership will ensure our students and families who are impacted by grief will have the resources needed, available to them. Please contact Mrs. Rincones when resources are needed or when your family has experienced a loss. You can also go to www.grievingstudents.org. These resources are free and beneficial to the healing process!
What do you want to be when you grow up?
A basketball player? A computer programmer? A musician?
We have all been asked this question multiple times. In reality it's not always an easy question to answer.
College awareness is an integral part of GISD culture. Providing students opportunities to explore career interests starts as early as elementary school.
Bullying
No student should be subjected to bullying or harassment that interferes with their ability to learn or their safety.
Visit the Bullying Prevention and Investigation page on the district website for more information and resources.
Anonymous Alerts®
You can use the Anonymous Alerts® webform or mobile app to quickly, easily and anonymously report bullying, cyberbullying and other sensitive topics to school officials.
Anonymous Alerts® is monitored by GISD Security 24-hours daily and should only be used for serious and urgent matters. In the event of an emergency or life-threatening event, always call 911.
Download the app
To place a report from a mobile device, first download the free Anonymous Alerts® app from the Apple App Store or Google Play store. Then open the app and enter activation code garlandisd.
More Information
Visit the district website for more information about the GISD Guidance & Counseling programs.